Best Baseball Website Templates In 2022
Ever thought of building a baseball website?
Would you like to build a website for minor league or rec baseball in your area so that everyone can simply remain informed?
Or do you cover a semi-pro or pro baseball league and want to establish your website as the go-to resource for information on that league?
The good news is that you can do it in a matter of hours or even minutes using WordPress and template together.
This tutorial will show you step-by-step how to carry out that task, from getting a domain name and web hosting to installing a template and activating the website.
And including the best baseball website templatesfor your new site.
Therefore, let's begin building your new baseball website.
A domain is the first thing you need for your baseball website. In essence, this is how visitors will find your website.
Now, there may be some misunderstandings regarding domain names and web hosting.
They are not interchangeable. The files for your website are kept on web hosting.
A domain essentially serves as the server's address where the files for your website are kept.
The good news is that domain names these days are reasonably priced. For less than $20 a year, you can certainly find your favorite domain.
You can also check out websites like Name.com, NameCheap, and Name.com.
Some web providers will sell you both a domain and web hosting as a bundle.
Your domain should ideally be straightforward and simple to remember.
The shorter version is preferable because it will be easier for people to remember to return to your website.
Don't worry about the www prefix either. After making the purchase, you can add that as a subdomain.
Additionally, think of backup domain names in advance in case your first choice is already taken.
Also, if you're in charge of a youth sports group, you should choose either a.com or a.org domain, though you'll need to meet a few extra requirements to prove your group's legitimacy.
You can read a blog post I made on my portfolio website if you're interested in learning more about domains and how to choose the ideal domain for your baseball website.
The next step is to buy web hosting so that you can store the files for your baseball website there.
It's possible that this will be the most costly and crucial purchase you ever make for your website.
You'll be alright if you choose a top-notch web host. You won't suffer any downtime issues, your site will load swiftly, and you'll have a great time.
The wrong host, however, and it might turn into a nightmare. You might start to doubt that your website will even be operational today.
Then there are worries about security. And even dubious customer service should emerge.
Because of this, I don't mind spending a little bit more to make sure everything will function.
Since they offer WordPress-specific hosting, WP Engine, Siteground, and Pressable are your best options in this case.
Even though both Bluehost and GoDaddy are very cheap, I've had a lot of trouble with them in the past.
You can read a blog post I created on my portfolio website to find out more information about the WordPress web host.
The moment has come to install and set up WordPress on your baseball site if you've got your domain and web hosting in order.
The good news is that the procedure is now largely automated.
There isn't much you need to do because many WordPress-specific web providers will install it for you when you purchase web hosting.
Others only require you to locate the WordPress installer and let it take care of everything.
After WordPress has been installed, you should review all the settings to make sure they are as you intended.
Make sure you specify the site's title and tagline/description.
Additionally, make sure the administrator email is set to your email by checking it twice. If not, you risk missing essential emails.
It's time to move to the next phase once they have been customized to your preferences.
Next, you can use any WordPress themefor your website, though it is advised that you utilize the template for your baseball website because it makes things incredibly simple.
The aesthetic, in particular, may need some tweaking, but the plugin is made to work with any well-made theme available.
Make sure you like the theme first, of course. Is it attractive? Does it present your posts and pages in an aesthetically pleasing and readable manner? Is it simple to navigate the theme?

Make sure the theme isn't introducing any functionality that you might lose if you switch themes by checking after that.

Themes in the theme directory must adhere to WordPress' principle that states they may only influence design, not functionality. That belongs to plugins.

If you use a theme that generates custom post types, switching themes could result in you losing that custom post type, which would cause you a lot of trouble.

Last but not least, confirm that the theme is still supported. Find out when it was last updated and what WordPress version it has been tested on.
It's probably a good idea to avoid using a theme if it hasn't been updated in more than a year.
Installing and activating a theme on your baseball website is the next step once you've chosen one you like and want to utilize for your website.
Now that you have a WordPress site, the template and plugin turned on, and your preferred theme set up, it's time to add some more plugins to give your site some functionality.
The plugins listed below are some of my favorites for usage on any website.
I adore using Yoast SEO for search engine optimization. Although the free version of the plugin works just as well, I currently use the premium version.
It will assist you in ensuring that your articles and pages are as SEO-friendly as possible, as well as with the technical aspects of SEO for your website.
Even if your website is simple, you should still make sure that it is running with a security plugin. One excellent choice is Wordfence.
Although I use the paid version, the free version is very functional. Additionally, you can keep your website secure by reading their security blog.
If you have a website, you undoubtedly want analytics software running on it.
The Google Site Kit makes it incredibly simple to link your website to Google Analytics.
With just a few clicks, it will handle the entire process for you.
There is no need to sift through the code.
Additionally, you can set up a Google Search Console on your site.
Additional plugins can be included as well. Just be cautious not to add too many plugins.
This could slow down your website and make it more likely to have security holes or plugins that don't work together.
It's time to start adding information for your league now that WordPress and your theme are installed on your website.
I would begin by advising the teams to include me first. They are less prevalent than players.
Additionally, when you subsequently add players, you can add them to the appropriate team.
So you may select "Teams" and then "Add New" to form a team. You can complete the fields that require information.
They very much explain themselves.
The team location and nickname fields are the only ones that can be unclear. A team's name should begin with its location, such as "Los Angeles" or "Texas," for example.
The second component of the name, such as "Dodgers" or "Rangers," is the nickname.
If a team, such as "FC Dallas," doesn't have a nickname, its full name should be entered in the field for the team's location.
The team logo is displayed next to the team name in numerous locations, such as the scoreboard bar, after pictures.
By default, only the single team page displays the team photo.
You can also leave the field empty if your league is a small or recreational league where clubs don't have a home field.
When creating games, there will be a field where you may enter the field and address for games.
Repeat the procedure with your remaining teams after that.
It's time to add the players after you've added the teams.
Navigate to "Players" and select "Add New" to create a new player. You can complete whatever fields you'd like for the player.
If you don't want to, you can omit information like your hometown or height and weight. Only if you wish to use them are they available.
Additionally, if you don't want to, you can omit player photos. A player's avatar will be a generic one if they don't have a picture.
Once you've added all of your players to the website, merely repeat the process. You can then begin playing games.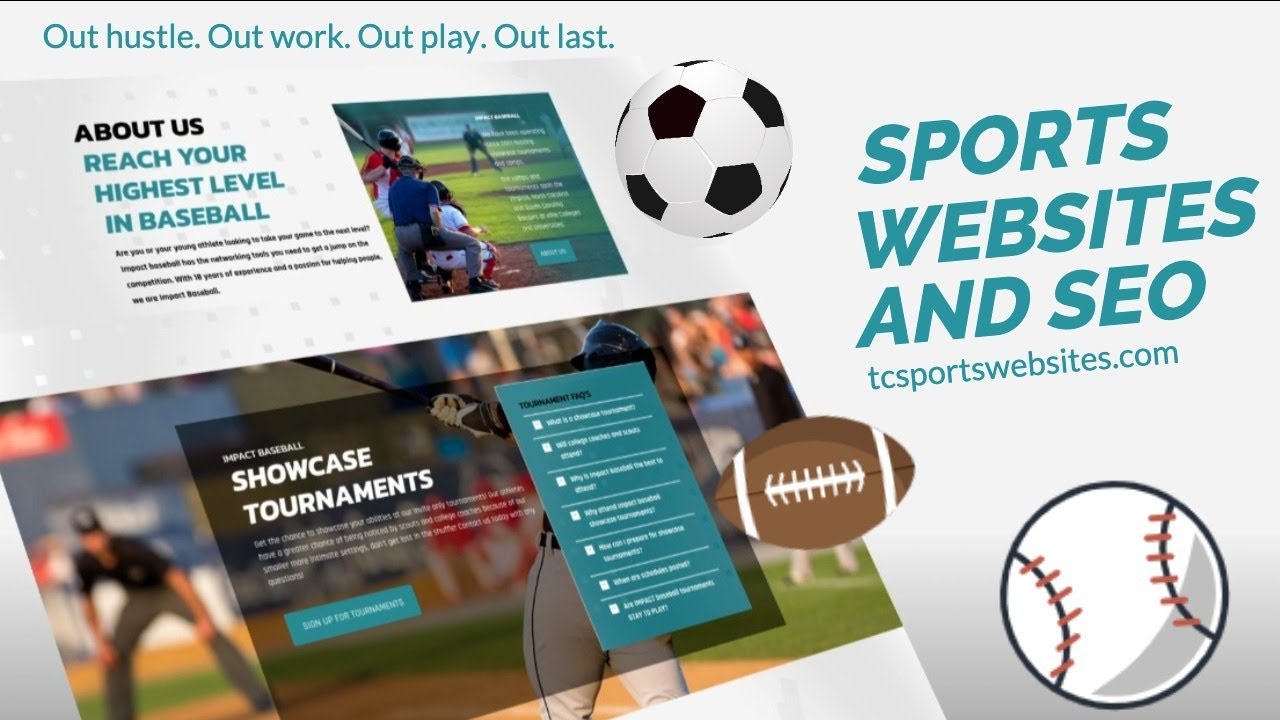 WEBSITE DESIGN & SEO FOR FOOTBALL, SOCCER, BASEBALL LEAGUES THE [WEBSITE CHECKLIST]
The games for your league must now be added. Go to "Games" and "Add New" to add a new game and predictions.
It's not too difficult to fill out the fields. Set the date, time, and teams for the game, as well as the home and away teams.
For games that will take place in the future, you can change the game status to "planned," "final," or "in process."
You can also provide the current score and duration of any active games. Like Yankees Vs Mets or Astros Vs Red Sox.
Additionally, you can designate the game as a neutral site game, which displays fields where you can enter the game's URL (which might be perfect for rec leagues so people know where to go).
You can include team statistics as well as scoring plays and game events for the game, depending on the sport you're using.
Additionally, you can provide individual stats for both the home and away teams.
It's time to move on to the next phase after your games have been added.
It's time to set up the pages on your website now that all of the data has been entered.
Let's start by creating the scoreboard, standings, leaderboard for statistics, and player stats search sites.
Create a new page in WordPress to accomplish that. The page titles are completely up to you.
If you're using the template, you can then look for the appropriate page template for the kind of page you want to create.
If not, you can choose the appropriate block to set up the page you want.
There is an additional step for the player, team, and box score pages.
When you've finished, you'll need to go into the template page settings and choose those pages for the Box Score, Team, and Player page options.
You'll design it identically to the other two (using the page template if you use the main theme or block for other themes).
The player and team pages won't function properly unless you go to "Settings" and "Permalink" and hit "Save" after finishing.
It's time to launch the website now that everything is set up and looking fantastic. Your website is typically already published and accessible to the general audience.
In order to publish your website, all you really need to do is make it public.
Share a link to it on your social media pages. Inform your family and acquaintances. Inform every participant in your baseball league.
In order for Google to index your sitemap and display it in the relevant search results, you should also publish it to the search engine.
In a blog article on my portfolio website, I explained how to use Google Search Console for this and other purposes.
However, take pride in the effort you put into creating your sports website. You did a fantastic job.
And even if you're not entirely content, you can keep tinkering and changing things over time.
Devata is an elementor template package for a baseball team, baseball tournaments, baseball academy, softball and cricket teams, and any other sports club websites.
With pre-made web themes, it is perfectly suited to creating user-friendly websites for important clientele.
From tablets, iPhones, and small mobile devices to standard desktop screens, it is totally responsive and fits on a variety of displays and resolutions.
Very little coding is needed to create a complete website.
For anyone wishing to build a professional-looking WordPress-based website for a baseball team, baseball tournaments, baseball academy, softball & cricket, or any other sports club websites.
Homerun is the ideal modern and clean Elementor Template Kit.This template is very easy to change because it uses Elementor.
It also has a professional design with a 100% responsive layout, is ready for retina displays, and doesn't need any coding at all.
The SportsPress Sports Club & League Manager plugin powers the WordPress theme for sports clubs called Sportix.
Sportix and SportsPress make it easy for your team to create a modern, professional, data-driven sports website.
A fully responsive template, PerediOn was created using Bootstrap 4, HTML5, CSS3, JavaScript, and jQuery.
It is a contemporary HTML template that can be applied to Sports Prediction Website Templates.
This may be customized to a great extent and looks fantastic on tablets and mobile devices.
A documentation folder with a description of the code structures has been supplied.
We've added web development best practices to Bootstrap 4, so you can use it to make a great website layout.
A responsive WordPress sports club theme is called Sporty.
It is appropriate for athletic clubs that play sports like cricket, ice hockey, handball, rugby, volleyball, basketball, baseball, and American football.
A WordPress theme called OXIGENO was created specifically with sports clubs, teams, and regional leagues in mind.
It is totally customizable, retina-ready, and responsive.
In the bat-and-ball game of baseball, two teams of nine players each alternate between batting and fielding.
When a member of the fielding team then the pitcher throws a ball that a member of the batting team attempts to hit with a bat, the game is in progress.
Baseball's five most crucial fundamental laws are balls and strikes, tagging up, force outs, tag outs, and a lineup limit of nine players.
Nine innings, each divided into two halves, make up the game.
While the opposing team plays on the field and tries to prevent the offensive team from scoring, the players on one team alternately come to bat in the top half of the inning and try to score runs. In the bottom half, the teams switch places.
The good news is that people like your newly launched website.
The bad news is that you haven't finished it yet. In actuality, you can never finish a website in its entirety.
You'll need to install updates for the WordPress core as well as your plugins and theme. In addition, security issues exist.
Additionally, things will occasionally break. Alternatively, you might wish to make changes to keep your website interesting.
Of course, you also need to update the teams, players, and games.
So, good work thus far. Keep it functioning and set up your website.
Share:
Twitter

|
Facebook

|
Linkedin